I testified Monday in Wyoming on a very sensible Daylight Saving Time bill, and it sailed out of committee on an 8-1 vote.
(That one no vote was sort of smiling as he voted no. I think he was fine with it passing. He was distinguished -- my way of saying he was really old -- and I think he was voting to represent the constituency of people who remember when Standard Time was more common before the Uniform Time Act of 1966.)
My testimony was impromptu, mostly just answering questions. It was a respectful and legitimate conversation on the merits. I was very happy to hear the Farm Bureau testify that it supported the bill. The lobbyist from the bureau alluded to the tortured history that farmers have with Daylight Saving Time, and in a sense he saw this bill as a chance to put all that, finally, to rest.
Yesterday I testified in my home state of Colorado. The last time I testified in Colorado the proceedings were not so respectful as I was personally attacked by members of the House, and I was even told that my comments were out of order. I wanted to stand up, like Al Pacino, and yell: "I'm out of order??? You're out of order! This whole place is out of order!!!!"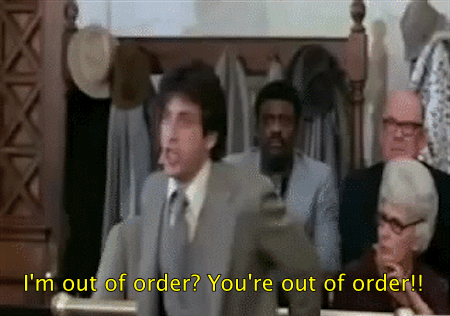 But I didn't. I just apologized meekly and moved on. That was two years ago.
My plan going into this year was to speak truth to power, and if I got ruled out of order, well, maybe those interested can just read this or watch this video and see what I would have said before I get cut off.
In the end, I didn't deliver these remarks below exactly. You can read an excellent writeup of what happened from Alex Burness in the Denver Post, but the comments below were the heart of what I wanted to say. What I learned after my testimony made me grow even more cynical about the process. See below for that.
Dear members of the kill committee,
My name is Scott Yates, and I'm the leader of the LockTheClock movement to end the insanity of changing the clocks twice per year.
I've testified all over the country on this topic, and the interchange with the lawmakers is always respectful, and very much on the actual topic of the significant health and safety concerns related to the government mandating that the entire population change all the clocks by an hour twice per year. Except in Colorado.
When I testified here in Colorado, I pointed out that the main reason that the ski industry said they were against fixing what is broken with time is that they needed morning sunshine to examine the ski lifts. I suggested that we all pitch in and buy them some flashlights.
That's when I was ruled out of order.
So I won't do that today. No way.
After that, I started doing some research, and came to a startling conclusion. In short, the whole "morning light" thing was not the real reason. I don't know for sure what the real reason is, but I suspect money is involved. Once a ski resort has sold you a lift ticket, it doesn't make any more money on you the more you ski. It only makes more money if you stop skiing and get into a resteraunt. The only way to get you off the mountain is to make it dark.
But as I sit here today, I don't actually think the ski industry even cares that much about this issues. Indeed, I think that if you kill this bill today, what is happening is simply a raw expression of power.
I have been working on this issue for six years now, and I pay close attention to what's happening around the country. Two states—Arizona and Hawaii—have locked the clock in Standard Time. Another 11 states have passed some kind of bill or resolution to stay in Daylight Time year round. Nearly all the rest have some kind of bill working to #LockTheClock. Only six states aren't doing anything right now.
Also I'm working closely with the office of Sen. Marco Rubio and Rep. Rob Bishop, both of whom have federal bills that would Lock the Clock, or allow states to do so more easily. Both have lots of bipartisan support, and in this post-impeachment world where legislators are anxious to say that they indeed did get something done and the only way to do so is with a bipartisan bill, both offices are optimistic that they will pass something this year.
But I'd like to draw your attention to five of the states that have passed legislation to fix Daylight Saving Time:
Washington,
Oregon,
California,
Utah, and
Maine.
From Mount Hood and Olympic Valley in the west to Sugarloaf in the east, or Jackson or Park City here in the Mountain Time Zone, there are a lot of ski resorts in those five states.
On Monday one of the 8 Yes votes in Wyoming was the representative whose district includes Jackson. No pushback at all. In the other states with a significant ski industry, absolutely no opposition. Nothing.
Does the sun interact with mountains differently in Colorado than it does in California? Do clocks work differently for skiers in Maine or Oregon?
Which leads me to think that maybe I was wrong, that the ski industry doesn't really care about getting more people off the mountain and into restaurants? What if they don't care about this issue that much at all?
Then what are we left with? What possible reason could the ski industry have in wanting to kill this bill year after year?
The only possible explanation I'm left with is that the ski lobbyists are killing this just because they can.
Larry Bird, one of the greats of the game of basketball, would sometimes deliver a hip check or make some unsportsmanlike comment, and not get called for it. Why would he do that? Precisely to show that he was the master in that building.
Similarly, I think the ski lobbyists use this topic simply as a way to flex.
Think about it from this perspective: Let's say that you are doing a town hall in, say, Aurora, and a constituent stands up and says, "I understand that federal law may change, and we could have had a chance to vote on which time zone we like best, and you voted against giving us, the people who elected you, a voice. Why is that?" And then you respond with your voice trailing off: "The ski industry doesn't have enough flashlights." 
It is beyond absurd—it is the stuff that turns people off to politics, and especially in this era, that is a shame.
This is good government 101. The government regulates time. The way that it does so right now kills and injures people. There is no partisan angle, just historically bad management of clocks. Previous generations of politicians didn't fully realize the high cost in life and money that clock-switching caused, but now we do know and yet we do nothing. Why?
Because of some lobbyists? Because of the raw exercise of power under the gold dome?
Imagine yourself again at that town hall, and when that constituent asks, imagine how great it would be for you to say: "You know what, I voted for you. I voted to give you that choice. It cost me politically, but I did it anyway because my job is to govern, and if we can't even govern the clocks, then what does that say? So I voted to bring some sanity to the clocks, and to give you a chance to be heard."
So I ask you today: Hold your head up high and vote yes.
Thank you very much.


Postscript: How Democracy Dies, Just a Little
So, that was the testimony that I didn't give, but my comments included a lot of that, but not the part calling out the lobbyists so directly.
Also, the reason that I had used Aurora as my hypothetical is that I thought the person most likely to buck the party leadership and vote would be Rhonda Fields of Aurora. If you click on that link you'll see that she's on the "Kill Committee" also known as "State Affairs."
And she may have been willing to go her own way on that day. But she wasn't on that committee on the day that bill was heard. 
Colorado is a pretty clean state. We have these great rules that, for example, make it so that every bill gets a hearing. Most states aren't like that, and bills often just die with no hearing at all.
But there are still ways to kill bills, and one is to assign them to the "state affairs" committee, a group whose mandate is so nebulous and membership so small that it can kill just about anything.
So the ski industry lobbyists worked with the leadership of the State Senate to assign this bill to the kill committee, and then just to make sure it would die, the leadership changed the membership of the committee just for one day.
Yes, just on February 19th, 2020, Sen. Fields was not on that committee, and she was replaced by Sen. Kerry Donovan. 
Why Donovan?
Well, for one she's from Vail. Not just from Vail, her family practically founded the town. She talked about how her brother worked as one of the guys who inspects ski lifts, so she was insulted at my "flashlight" comments.
In short, she was about as reliable of a vote as you could find who would be willing to carry water for the ski industry lobbyists.
I was sunk before I walked into the room.
But the fact that the ski lobbyists had to go to such extreme measures to kill the bill, I think means the gig will soon be up.
And besides, the amendment that we offered was a good one. It didn't commit Colorado to do anything, just to take a preference poll that will only take effect if the federal law changes. Really, if the ski industry was smart they would agree to it so that they can try to convince Coloradans to stay in Standard Time year round. If daylight time would really mean death and dismemberment of ski employees, they can try to make that case to the voters and see if the voters believe it more than I do. Maybe the voters will buy it, they've believed less credible claims than that.
If the ski industry does not make that case, it will be stuck with the federal law, which most likely will be putting us into permanent Daylight Time.
The Denver Post story by Alex Burness was so great, because it put right into print so everyone now knows what was formerly known only by people who hang around the capitol a lot: The ski industry is super powerful in Colorado, and is stopping the legislature from doing what it would otherwise want to do.
Now that the very concept of going against the ski industry is out in the open and being talked about, it's kind of like the Emperor with No Clothes. It only takes one person saying it publicly, and the gig is up.
Times are changing, and the time is going to be changing.